Coming the first week of August to Urban Allure
Cryotherapy – The most exciting new recovery therapy in the world of sports, wellness and beauty.
In recent months, whole-body cryotherapy — which was developed in Japan in 1978 to treat arthritis — has exploded thanks to celebrities such as Lindsay Lohan, Derek Hough and Mandy Moore, who've been Instagramming their sci-fi-looking treatment pics. Makeup maven Bobbi Brown, Yoko Ono and Daniel Craig are devotees, and the New York Knicks have two cryo-saunas installed in Madison Square Garden. Soccer player Cristiano Ronaldo is such a fan, he bought his own $50,000 device.
Train Harder + Recover Faster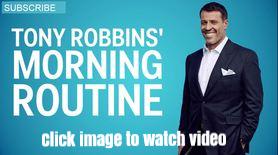 People who use cryotherapy say the experience makes them feel refreshed and invigorated.  Users claim a host of benefits, both physical and mental.  This practice can reduce pain and inflammation caused by strenuous exercise.  Athletes can train harder and recover faster.
Click the image to the right to see what Tony Robbin's says about Cryotherapy.
To learn more and to sign up to be on the short list to receive inside information.